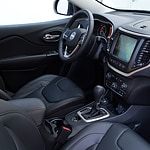 This year's Jeep Cherokee is taking no prisoners in the arena of capability. With its unforgettable and classic look comes added strength and ability, making the all-new Jeep Cherokee worth checking out.
One of the most impressive capabilities that come with the Jeep Cherokee is its ability to handle the rocky road, no matter where your journey leads you. In fact, this Jeep can get you where you need to go even if you have to tread through water to do it!
Equipped for expert maneuverability, traction, articulation and ground clearance, you can be sure your Jeep Cherokee can keep up with every one of your outdoor weekend antics.
What's more is that the new Jeep Cherokee also offers its drivers safety and stability as it comes with available options for 4x4 driving systems, which allow for optimum handling in elements like torrential rains or blinding snow.
In summary, the Jeep Cherokee is a strong contender in the world of compact SUVs and its versatility can be hard to come by!