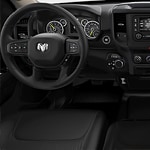 The new Ram 1500 gets its popularity today in part from its impressive capability features. It is built for power and performance in mind, making it just as well suited for work as it is for pleasure driving.
Take a look, for example, at its multi-function gate. Unlike most pickup truck gates that simply lower and raise, the new Ram 1500 has a gate that can also open from side to side from the middle. This wide range of motion makes for easy loading and unloading of cargo.
It also has a towing capacity of more than 12,000 pounds, making this light-duty pickup truck well-suited for towing horse trailers, motorboats, and even small RVs behind it. It has built-in stability control to help you keep your truck and trailer in your lane of traffic.
Experience the capabilities of the new Ram 1500 in person. Test drive one today.